Anyone that is a regular reader of our site would know that a big part of what we are about at containerhome.info is busting open the many myths and misconceptions that surround the use of Shipping Containers as building modules, so that real people that are genuinely interested in getting involved in actual, real world container home builds can gather together the information they need to make informed, factual decisions about building with Shipping Containers.
Today's post is about the way in which multiple containers can be grouped together in combination to form modular buildings, now this is actually a rather complex discussion and one we deal with in detail in the Container Home Tutorials – so this post is a little more specifically about stacking shipping containers.
Anyone that has been looking for inspiration online from photos and shipping container house plans would have seen the literally 1000's of drawings and architectural illustrations created by Architects and Designers that shows multiple containers stacked in dozens of different configurations.
In the real world things are a little different…
Shipping Containers are designed to be stacked under very prescriptive loading conditions. You will never see containers stacked on-board ships or even in shipping yards other than the way they where designed and intended to be stacked – ie in horizontal and vertical alignment and there is a very good reason for this, they are simply not designed to carry the types of loads created by "criss-cross stacking".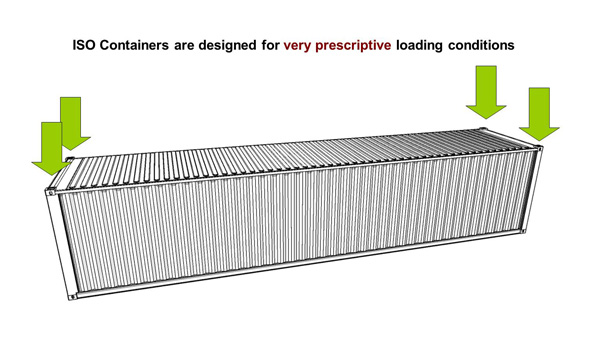 This small Shipping Container Cabin was created in 2008 so its not new in itself but I wanted to show it here as a great example of what it takes to "realize" the more edgy elements of container home design like criss cross stacking.
BTW the principals we are talking about here apply equally to this 2 container design as they do to a 22 container design.
Take a look at this design – At first glance what you will see is 2 x 20 ft shipping containers stacked on top of each other in a cross cross configuration, this seems to bear out that criss-cross stacking can be done, right ?
Now take another closer look – I have highlighted the extensive modifications and reinforcement required to carry the loads, specifically the additional I beams and supports.
Note that this reinforcement is required not only in the lower container but the upper container as well, the walls of a standardized container are not designed to support the placing of a container off the corner points.
Now even if this particular design is not my "style" or "taste" ( but to be fair the pink-dotted façade is intended to illustrates the wide range of possibilities for tailor-made exteriors rather than an actual colour scheme )  I respect the team that put this together, so this is not in anyway a critical review of the individual design, in fact this is actually what is required to do this "right" so what we are saying here is this….
If you want to incorporate the more edgy elements of container architecture into your home design be prepared for a hefty engineering and modification bill, its not just a case of getting a crane to drop them down on top of each other as is atheistically pleasing your to your eye.
Find our more about design and container modification in our Shipping Container Home Tutorials – the first hour of video content is free. If your interested use the request form in the top right hand corner of this and every page.
[nggallery id=24]